on Thu Aug 22, 2013 9:33 pm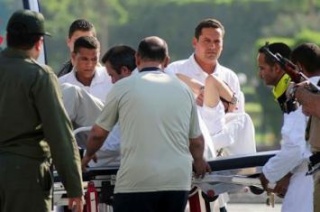 CAIRO, EGYPT - Former Egyptian dictator Hosni Mubarak left the Tora prison in Cairo on Thursday (08/22/2013) and was taken to a military hospital and then placed under house arrest.
On Thursday afternoon, live television showed Mubarak transferred from an ambulance to a helicopter to be taken to hospital.
A blue-and-white helicopter took Mubarak from Tora prison, Cairo, where dozens of supporters gathered to celebrate his release. He was airlifted to a nearby military hospital in the southern suburbs of Maadi, officials said.
"He protected the country," said Mohammad Lobna, a housewife in a crowd of fanatics Mubarak sympathizers. "He was a good man, but we wanted to [Abdel-Fattah] al-Sisi now," he said, referring to the army that overthrew Mohammed Mursi on July 3.
Judicial authorities have ordered the release of Mubarak from Tora prison. Lawyer and other sources said earlier that the first goal was a top class hospital in northeast Cairo.
Egypt's prime minister's office said that Mubarak would be placed under house arrest.
The decision was made under a state of emergency declared for a month last week when police raided a peaceful protest camp established in Cairo by supporters of the Muslim Brotherhood to restore the deposed president Mohammed Mursi to his seat on August 14.
According to government sources, only 900 people, including about 100 soldiers and policemen, who were killed in violence across Egypt since then, but the witnesses and medics in the field say nearly 3,000 people were killed, most of the victims were shot dead by security forces.
Mubarak was sentenced to life in prison last year for failing to prevent the killing of protesters. But the court accepted the appeal earlier this year and ordered a retrial in this case, where he had undergone the maximum number of pretrial detention. Mubarak was arrested in April 2011.
This week, two court decisions in cases of corruption separately removing the last legal basis for continued detention, though he will not be allowed to leave Egypt and its assets remain frozen. In Maadi hospital where he was taken, there are some signs of increased security apart from three police cars parked around the corner. Soldiers guarding the main gate, along the boulevard of restaurants and clubs Nile boat.
Liberation Mubarak is a symbolic victory "old order" military-dominated Egypt. Threatened release tensions across the North African country that has been plunged into chaos after the army toppled the former president of the origin of the Muslim Brotherhood, Mohammed Mursi on July 3. (An / Reuters)

Permissions in this forum:
You
cannot
reply to topics in this forum